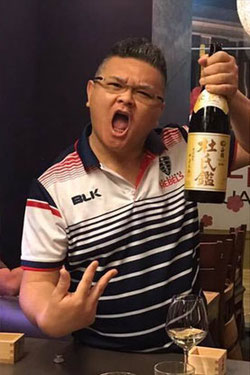 We had a chat with with the ever popular Terry Nishiura of HaNa Ju-Rin Japanese Restaurant ahead of our inaugural event to see where his love of saké comes from!
Q: How long have you lived in Sydney and what do you love most about being a Sydneysider?
A: I've lived here for 29 years and I love the natural environment and the seafood.

Q: What's your favourite sake and how do you like to drink it?
A: I have five: the tokubetsu junmai by Niwa no Uguisu, Yorokobi Gaijin (a beautiful hand-made sake), the cloudy sake version of Nanbu Bijin, the junmai daiginjo by Kinmare and the junmai daiginjo by Kuu.
Q: Why does sake pair so well with so many different kinds of food?
A: It pairs well because the characteristic sweetness of the rice enhances the savoury flavours of many dishes.
Q: When you're pairing food with sake, can you give us some insight into your thought process?
A: I start by making a mental note of the characteristics of the sake before I start to think of what is possible food wise, based on my experience.
Q: What made you want to become a restaurant owner?
A: I love to eat, and I wanted to share the merit of Japanese food in Australia through that same love. I love to eat and because I'm passionate about food, I wanted Australia to know just how great Japanese food really is.
Q: What's the most rewarding part of your job?
A: The conversations I share with my customers.
Q: What do you like to do in your spare time?
A: Spend time in the sauna, play rugby...and just doing nothing in particular (laughs).
Q: What's something that not many people know about you?
A: I like to spend time alone
Q: If you could share a bottle of sake with three people (dead or alive) who would they be?
A: My mum, Masaaki Mino (my former boss and a great man - he was one of the biggest names in the aluminium industry, sponsored many aspiring golfers and donated generously to the Sydney Japanese International School) and Seiji Hirao (a former Japanese rugby union player and coach for the national team).
Q: Other than sake, what other Japanese product would you like to see become popular in Sydney?
A: I would like to see three products become popular in Sydney: Sasanishiki rice from Sendai (the rice I've acquired a taste for since I was a kid; I reckon it's the best rice in Japan), Japanese wagyu beef, and Japanese fish.
Remember to book your place at our upcoming event!