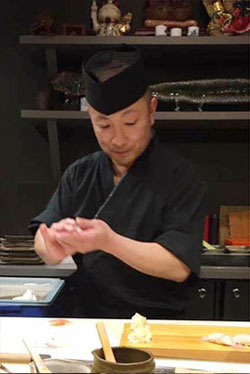 We sat down with the incredible Tomoyuki Matsuya, a second-generation sushi master and master of the sushi ceremony at HaNa Ju-Rin Japanese Restaurant for his insights into saké! One week to go and a handful of tickets left so get in before it runs out!
Q: How long have you lived in Sydney and what do you love most about being a Sydneysider?
A: I have lived in Sydney for twelve years and I love the 'in-between' parts of the city that are neither urban nor rural.
Q: What's your favourite saké and how do you like to drink it?
A: My favourite sake is Gassan from the Yoshida saké brewery in Shimane and I like drinking it chilled.
Q: Why does saké pair so well with so many different kinds of food?
A: It is made of rice and rice usually goes well with most foods.
Q: When you're pairing food with saké, can you give us some insight into your thought process?
A: First, I consider whether the food and saké go well with each other or not. I try to create new synergies between the two to enhance the flavour profiles of both.
Q: What made you want to become a sushi chef?
A: My father is a sushi chef so I decided to also become a sushi chef. I'm a second-generation sushi chef.
Q: What's the most rewarding part of your job?
A: As I put so much time and energy into preparation, when customers say 'This is delicious!' or 'This is great!' after eating my sushi and sashimi I think that is what is the most rewarding.
Q: What do you like to do in your spare time?
A: I play with my children when I have spare time.
Q: What's something that not many people know about you?
A: Not many people may can guess but I'm a sweet-tooth. I often eat ice-cream and my favourite is from Häagen-Dazs.
Q: If you could share a bottle of saké with three people (dead or alive) who would they be?
A: They would be my deceased grandfather, Hidetoshi Nakata (a famous former Japanese soccer player), and Yuko Takeuchi (a famous Japanese actress).
Q: Other than saké, what other Japanese product would you like to see become popular in Sydney?
A: I'm filled with the Japanese spirit so I want to see many Japanese products become popular, but in particular, I'd really like wa-bocho (ie, Japanese knives) to become popular in Sydney.