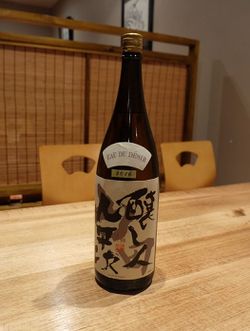 The Sydney Sake Society was very pleased to have the opportunity to offer the highly acclaimed and very-hard- to-get Kuheiji 2016 Eau du Desir Junmai Ginjo from the Banjo Sake Brewery in Nagoya, the capital city of Aichi Prefecture in
central Japan.  With limited production and limited distribution, they no longer import their sake to Australia and customers in Japan are limited to one bottle per purchase. Kuheiji is also renowned as the first sake to feature in Michelin three-star restaurants in Paris (Guy Savoy and Pierre Gagnaire).

The Sydney Sake Society, with the generous assistance of the City of Nagoya, was able to do the impossible and secure three 1.8L isshobin bottles for last week's event and one of our guests, Akira-san, who we found out later also happens to come from Nagoya, was the lucky and very happy winner of this super premium sake, generously donated by our major sponsor, Hassett Lee & Co Lawyers.
This crisp and refreshing sake features a succulent bouquet of grapefruit, wood and white flowers. It has a refined honey-like sweetness soon followed by a subtle acidity, which fills the mouth, with hints of minerality.

Rice variety: Yamadanishiki
Polished to leave: 50%
Alcohol content: 16.0%
Vintage: 2016 (Kuheiji is the only brewery with vintage declarations on all products; the vintage indicates the year the rice was harvested)