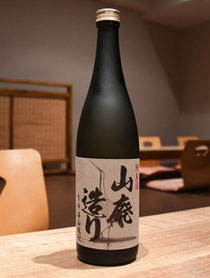 This sake was expertly selected by our generous sponsor, the Sakeshop in Stanmore:
Aroma of vanilla, butter, citrus and dried apricot. A multifaceted palate of lemon, mushroom, jersey milk, sudachi peel and raisin with a clean finish and gentle acidity. Great to pair up with chahan, mushroom risotto or grilled mackerel.
When served warm, enjoy a simpler drink to warm the cockles of your heart.
Yamahai is a style of sake where the lactic cultures are allowed to develop naturally. This can lead to funkier, gamier characters developing in the final product. Sato Brewery is one of the few to brew Yamahai in Oita prefecture, Japan.
You can purchase this Senbazuru from the Sakeshop by clicking on the link: https://www.sakeshop.com.au/products/senbazuru-yamahai-zukuri-720ml
Rice variety: Gohyakumangoku
Polished to leave: 65%
Alcohol content: 15.5%